FUNDRAISING: AS COMPLEX AS PEOPLE ARE
Valetine Cornelius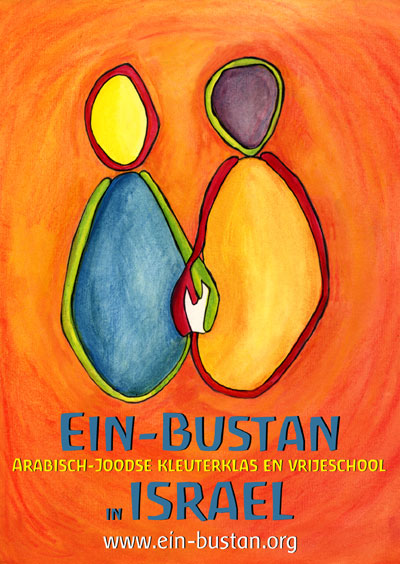 On the 26th of May the I.H.F (International Aid Fund) held an Information Day in Driebergen/Holland. The I.H.F. is a Dutch voluntary organisation which supports worldwide Waldorf school initiatives - for instance by sponsoring scholarships.

On that day, the portofolio holders for the different countries informed the public what had been accomplished with their donations.
The benficiary schools presented their development by showing pictures and short m
ovies, and also exhibited handmade craft items which could be bought.
Despite the fact that we are not memerbs of the I.H.F., Cornelis Boogerd and I were invited to represent Ein-Bustan with a stand.

Fundraising is a complex issue.
From our past experience, we have learned that there are different ways to gain the interest of the public in supporting Ein-Bustan financially:

- Making the purpose clear and visible in our Dutch language Newspaper published via the Website of Ein-Bustan.
- By selling attractive items like the the soap with its fine fragance made by Zvika Ma'ato, or
the hundreds tiny white ceramic peace-doves manufactured in a far-off village in Peru.
- The lottery. (We never used it). You spend some money for "a good purpose" but secretly you hope to get the millions yourself!

A few years ago we had a remarkeble experience, which was interesting enough to bear repeating:

The editorial staff of a Woman's Weekly named "Margriet" was so impressed by the initiative of Ein-Bustan that they offered us an article in their magazine and €1500.-!
How we could show these generous spenders that this seed fell in fertile soil?
I bought for almost this amount of money from a Turkish greengrocer huge delicious dates from Israel, which he gave me at costprice!We packed them in cellophane and tried to sell them at a Waldorfbazaar. 10 dates for €5.- with the explanation for what purpose. None was sold.

Passers-by told us: "At the supermarket we can get them for half the price"
That's correct. Conclusion, we had to change our stategy. So we put a sign with the text:

SPEND A GIFT OF €5.- FOR THE ARAB-JEWISH KINDERGARTEN OF EIN-BUSTAN
AND YOU WILL RECEIVE A BAG of DATES FOR FREE.
In a few hours all the dates were "sold" and our income almost doubled.

A sixteen year old pupil of the Waldorfschool in Amsterdam, Tara Kuypers Wentink , delighted at seeing the happy faces of the children of Ein Bustan, made an expressive image of the initiative. That lovely poster attracted the visitors to our stand at the I.H.F. day and we hope it will touch the visitors of the Ein-Bustan web-site as well!

Fundraising is as complex as people are.
Vally Cornelius, June 2013