Holding Your Dream Between Your Hands
Marta Rocha de Araujo
Nijmegen, June 2013

Impressions from Ein Bustan's stand at the
Internationaal Hulpfonds Open day, Netherlands, May 26th, 2013

A teenager stands staring for a long time at the basket filled with Maayan Babustan soaps.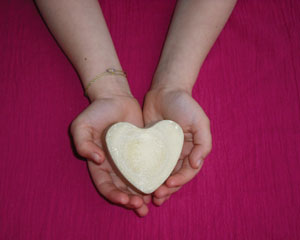 Reluctantly, he places one small Orange soap between his hands. He asks about the price, and without looking at me, searches for money in his wallet.

"As thanks for a donation of minimum 5 euros, you may choose one."

We exchange money for soap before he looks up. Then our eyes cross and I see earnestness, satisfaction. He has just performed an act that will help you assure your future, somewhere, far away. No, he asks no questions about the project, for he himself has attended a Waldorf school. He walks away holding the soap and I wonder what exactly is on his mind.

Other visitors, adults and donors do inquire about the situation at Ein Bustan. In particular regarding the negotiations with the Israeli Ministry of Education and the progress of the children in a bi-lingual environment.

Full of interest, I follow the explanations of Vally Cornelius, representing the project at the event. I watch the film showing celebrations and storytelling; and I try to follow the interview with the Director, Amir Sholmian – in spite of the quality of the clip – and I read the handouts available.

But above all I let the impressions of the beautiful, new poster for Ein Bustan (which was drawn by a youngster of a Waldorf school here in Holland) get lodged in myself. There is a white space between the hands of the two children: Peace? The future?

The days after the event I regularly open the website of your school and read the testimonies of the parents and teachers. Again and again I read about the determination to give their children education in the broadest sense of the words: learn to live, wherever you live being fully yourself amongst others – whoever they might be. The new garden, a transformed old building - all fantastic and creative solutions. A little paradise for the little ones from different backgrounds.

It is all so far from the quiet school where the Open day took place, at an elegant neighbourhood in a peaceful country… Also so different from the reality of Israel around you, restlessly immersed in painful history.

Ein Bustan, a pearl radiating light and hope, protected by a shell – oh, so breakable – and protected by such unimaginably strong people. Forever young, holding your dream between your hands in determination and hope, with earnestness and satisfaction, like the boy and his soap.